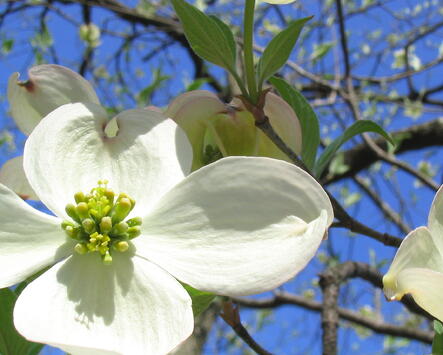 New England native plants are wonderful options for your landscape. We've talked about native plants before – see this post on why native plants are low-maintenance and great for the environment, and this one on a few particularly appealing native flowering shrubs. Today, we'll introduce you to a few of our all-time favorites. A good mix of trees, shrubs, perennials, and groundcover will give you the most beautiful planting design, so we've included some of each to fulfill all your gardening needs! Check out our gardening design service's top picks for New England native plants:
Cornus florida - Dogwood Tree
The dogwood is an ornamental flowering tree that puts on a beautiful display of flowers each spring. It's great as a focal point in your landscape design – its graceful, horizontal-tiered branches turn a beautiful scarlet red in fall. It's also low-maintenance and disease-resistant once established.
Kalmia latifolia - Mountain Laurel
Mountain laurel is a large evergreen shrub that works wonderfully in any type of landscape. Small white, pink or red flower chains in spring add interest to year-round green foliage. It's particularly good used as a screen plant – it grows between ten and thirty feet tall!
Clethra alnifolia - Sweetpepper Bush
This wetland-tolerant shrub blooms in midsummer, giving off a wonderful scent and providing nourishment for butterflies and other native pollinators. It's a great option for damp or marshy spots in your landscape, since it prefers damp soil. It grows easily to around eight feet depending on variety, has great fall color, and holds a nice sculptural form throughout the winter.

Fothergilla gardenia - Dwarf Fothergilla
This 2-3 foot mounding shrub, also called witch alder, has a unique flower and great fall color! Dwarf Fothergilla's striking yellow, orange, and red fall foliage makes it an excellent option for your landscape, whether as a foundation plant or a low shrub border.
Echinacea purpurea - Coneflower
The perennial Coneflower is named for its big, bright flowers, perfect for cutting bouquets from your garden! Different varieties yield different colored blooms; they resemble huge daisies, and keep blooming from late June through September. These 1-3 foot tall plants thrive in a variety of locations and soils, and shrug off New England cold.
Salvia spp. - Purple Salvia
Salvia is a great choice to add color and summer punch to your garden! Its tall flower stalks put on quite a show, and it's both easy-to-grow and deer-resistant. With a little maintenance in the fall to clean up dead flower stalks, this lovely perennial will put out beautiful, butterfly-attracting flowers each year.
Arctostaphylos uva-ursi - Bearberry
Bearberry is a unique native groundcover with small white flowers and bright red berries. It is a non-invasive – and more interesting – alternative to traditional groundcovers such as junipers or ivy. It's salt-tolerant, sun-loving, and its berries are sometimes used for their medicinal properties.
In New England, we're fortunate to have so many beautiful native plant options. What are a few of your favorites? Leave us a comment below and let's share our top picks.
Want help choosing native plants for your landscape? John's Landscape Design Service would love to help you with your garden. Contact us here to get help with your gardening design!
photo credit: http://en.wikipedia.org/wiki/Cornus_florida