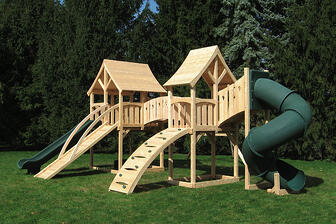 You're looking at buying that amazing swing set, slide and jungle gym combo for your family – but what do you need to prepare first? Here are some questions that will help you get your backyard ready for a perfect playground.

1. Is there a slope or grade to the ground where you're thinking about setting up your play area? Even a small slope, one you don't really notice when mowing or gardening, can cause instability in playground equipment. Take a closer look, and consider getting that area leveled by a professional landscaper before you set up a swing set or fort.

2. How big is your space? A swing and gym set might fit great in your backyard now, but it may get crowded fast as your family grows. Do you need space in your backyard for other activities, like kicking around a soccer ball, or setting up a patio area? Make sure you consider all your needs and plan your play area accordingly.

3. Do you want your playground equipment to be the focal point of your landscape? Remember, kids grow up and graduate to other activities, but that swing set will still be there! Think about how the overall look of your landscape will be affected now and in the future. A landscape designer can create a layout that will delight your family today and for many years to come.

4. Have you considered incorporating natural elements into your landscape play area? How about a climbing boulder, or a small grouping of low tree stumps? You can make a magical playground that kids will love by artfully mixing in natural elements. Even simple elements, like a tree log bench surrounded by mulch can connect your play area to a natural and pleasing landscape that will look beautiful with minimum maintenance.

Go back in time for a minute. What was the favorite part of your backyard growing up? Leave a comment and let us know!
photo credit: Triumph Play Systems