Why do professionally designed landscapes always look so good? There are secrets that landscape designers learn over the years that help them make amazing use of your space. Here are a few – direct from our landscape designers to you – to help inspire some ideas for your outdoor living space.
1. Change the Focus
Almost everyone has something in their landscape they want to hide – a telephone pole, a chain link fence, an electrical box, or a neighbor's house. Landscape designers know the key to hiding ugly spots is changing the focal point. Simply direct the eye elsewhere by creating a new landscape view to de-emphasize the eyesores.
Layered gardens, with plants and trees of varying heights, can be a great tool to achieve this; tall, vertical evergreens and vines fade into the background, letting shorter, brighter features and flowers take center stage elsewhere. Bamboo fencing can also be a great way to hide a chain link fence or a neighbor's unkempt yard, as well as providing a pretty background for your own space.
2. Use Color Wisely for Your Landscape
Hot colors can bring distant scenes into exciting focus – so add red, yellow, or orange flowers to a faraway vista to draw attention to it and make it pop. These colors also work great around a pool, bringing fun energy.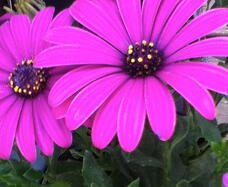 If you want a relaxing space, plan to use cooler colors – deep green foliage, white blossoms, soft grasses, and climbing ivy are all great choices for a calm oasis in your backyard. A professional landscape designer can create different spaces for different purposes, designing a space that works best for you.
3. Add Personal Accents
It's your landscape – make it personal! Use your space as an outdoor canvas to express yourself with art and natural objects. A container garden with some of your favorite plants and flowers can be a great accent piece, letting you mix pottery or stoneware with lush, three-dimensional plant life.
River rocks, sand gardens, and rippling water features can bring Zen charm to a landscape design. Painted benches of wood or metal add a pop of color to a shady green corner, or draw attention to a bright, sunny spot for reading or bird-watching. (A bird feeder or berry bush also makes a great artistic accent.) Try letting any metal you use rust a little for an antique patina, or check out antique shops for some pieces with true vintage charm.
Want even more professional landscape design secrets? Contact us for a consultation to discuss your project, no matter how small or large!
Have you personalized your garden and landscape? Please leave a comment below and let us know.