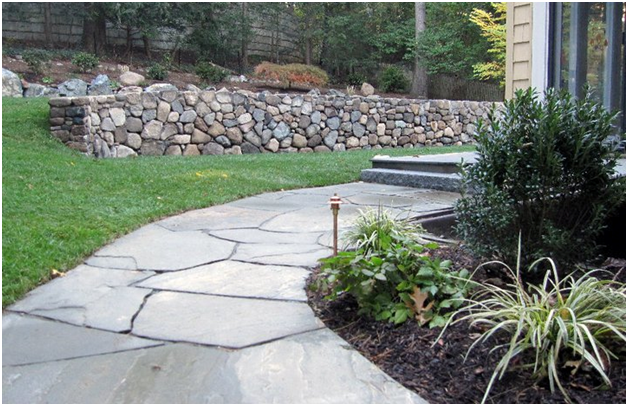 5 Steps for a Successful Hardscape Design Project
1. Evaluate the Site
The first step in your hardscape design project is determining how large a space you need. The tendency here is to go too small – once you add tables, chairs, and décor, you may find you need a larger footprint for your patio not to feel cramped. Think about all the different things you want to use the space for and go over them with your landscape designer for suggestions. For example, our on-staff designer here at John's Landscaping Services will paint out your project footprint using spray paint or marking tape with on-site measurements. This makes a really helpful guide for visualizing the size and shape of your hardscape project,
2. Work with a Reputable Professional
There's a lot that goes into your hardscaping project that you might not realize, and working with a reputable hardscape designer is essential. It's important, for example, to put in a proper base for your hardscape that suits the materials you've chosen. Improper base installation – not enough materials, not enough tamper, the wrong sort of grade or drainage plan – can mean disaster for the project, and a costly and time-consuming headache for you. Check the background and hardscape experience of the designer you choose. A good hardscape designer will start out with a site analysis, prepare a scaled plan of your project with professional design software, and work to incorporate all of your requested design features. All this before the project even breaks ground!
3.Talk About What You Want
Your landscape design partner should pay close attention to what you would like. He or she will know the right questions to ask: What's your lifestyle? How often do you plan to use the space, and what for? Have you thought about adding design elements like stone walls or built-in seating? A quiet, small household has very different needs from a large family that hosts a lot of parties with the kids. Whether you're looking for a patio, a BBQ area, or a multi-use space, you should feel comfortable sharing your design dreams with a hardscape professional who listens and builds on your ideas with you to make the perfect space for you.
4. Pick the Hardscape Materials
There are many beautiful, natural materials to use for your hardscape! Ask for sample materials and photos to review before you make a final choice, and discuss with your designer the pros and cons of different types of materials. From brick and paving stones to field stone and bluestone, each material has a unique beauty and specific advantages to offer. Choose something that fits with your design aesthetic as well as your durability and drainage needs. For example, a morning tea and reading alcove can have softer, less regular paving stones for an overgrown-garden feeling, but a patio where four kids will be playing games all summer should be smooth and pretty much bulletproof. Stone walls look a lot different from brick ones. Work with your hardscape designer to decide what materials make sense for your specific project.
5. Keep Communicating
Communication should stay open and frequent throughout the hardscape design project. This is especially important because sometimes there are surprises to be discovered in the ground when you start the project – ledges that need to be worked around, for example. Stay flexible! Your landscape designer can help you come up with creative alternatives that stay true to your original vision. Even after the project is finished, a good landscape team will check the site, do a walk-through, and make sure everything is perfect before signing off on a job well done.
To work with our in-house hardscape designer, contact us.