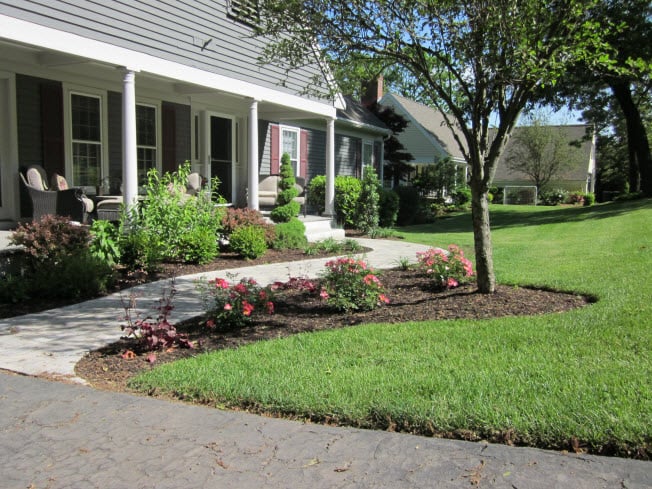 An eye-catching front yard adds considerable curb appeal to a home. It's not difficult to notice the differences between a landscaped property and a bland or untidy one. Homes with manicured grass, flowering plants, and shade trees are universally more appealing than neglected properties—even the bigger, more expensive properties. So taking care of your front yard landscape should be a priority.

Where should you start? A professional landscape designer is the best resource for a front yard makeover. Experts can tell you which elements will work well and how to install them properly. Here are a few front yard landscaping tips that always add curb appeal:

Say Hello with Flowers
Planting flowers is a guaranteed way to add appeal to your front yard. Incorporate bold, bright colors that complement your home's exterior. Or choose a single color—for example, all white blooms—for a more modern effect. Whatever your style, crops of hearty flowers show guests that your home is a welcoming space.

Create a Front Yard Patio
Backyard patios are taking a backseat to front yard sitting space—and with good reason. Adding a front patio gives your yard a more inviting feel. Similar to the large, front porches of old, front patios encourage neighborhood interaction. You can relax and chat with neighbors, while sipping an iced tea on a hot summer day. Patios are usually more open than porches, but if you prefer some privacy, try adding a trellis with climbing vines and a few small hedges.

Give Your Walkway a Lift
Redefine your front walk with tidy rows of green. Plants such as boxwood and variegated hosta work perfectly for walkway borders. Don't have a front walk? Even better! Adding a quaint and curving path to your front door is one of the single fastest ways to ramp up curb appeal. Ask your landscape designer about the different advantages of pavers, flagstone, bricks, and other options.

Revamp a Slope
Grassy slopes can be a chore to maintain. Quit trying to grow grass on your sloped front yard, and instead turn the hillside into a stunning exhibit of sprawling ferns and ivy. Use mulch or stones to keep the overall area tidy, then dot the terrain with a mix of evergreens, perennials, annuals, and groundcovers. You'll achieve a curbside bed that remains appealing throughout the year.

Combine Different Textures
Just like indoor design, outdoor style is improved with contrasting textures. Ask your landscaper to combine spindly plants with flowy, frothy greens. Add large rocks and small pebbles to serve as groundcover. Then use blossoming shrubs, such as pieris, rhododendron, and azalea to soften the look of the stone. Water is another unique "texture." Choose a small fountain or birdbath to add a touch of tranquility.

Again, it's a good idea to leave the big projects to the professionals, since you want to ensure that plants and hardscapes are installed correctly the first time around. But you can add your own handiwork with some homemade elements, like ceramics, birdfeeders, or refinished furniture. Have fun with it!